Ingredients
Fruit Filling
• 3 Peaches, peeled & sliced
• 1 basket Blueberries
• 1 basket Fresh Figs, quartered
• 2 tablespoons flour
• 1/4 cup sugar
• Pinch of salt
Topping
• 1 egg, whisked in a small bowl
• ¼ cup sliced Almonds
• Lavender Infused Honey to drizzle
Fleur de Mer Pastry
• 2 cups Flour
• 1 ½ sticks unsalted Butter, chilled
• 2 tablespoons Sugar
• ½ teaspoon Salt
• 3-4 tablespoons chilled Fleur de Mer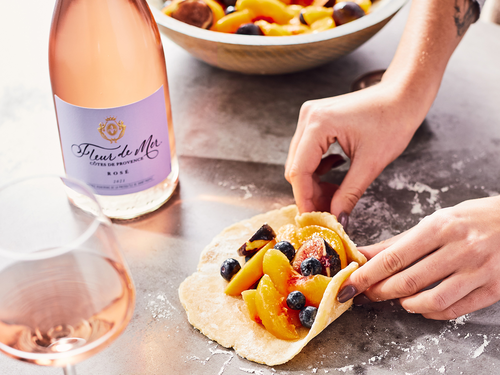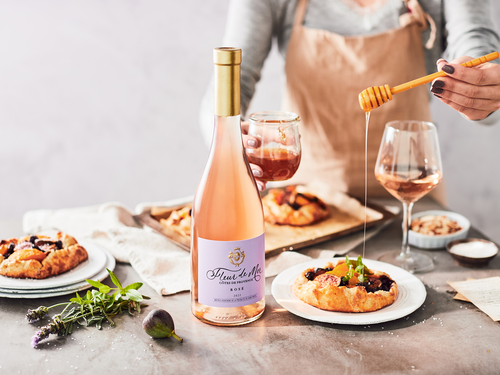 Directions
1. To Make Pastry:
Combine all the ingredients in a food processor or mixer. Blend a few times until butter is about the size of a pea. With processor on, slowly drizzle in Fleur de Mer to mixture until dough comes together. Remove dough from bowl and pat down into 5-6 small discs. Wrap in plastic wrap and chill for at least an hour or longer.
2. For Filling:
In a large bowl, gently toss the fruits with the sugar, flour, and salt until just blended.
3. To Assemble:
Preheat oven to 400 degrees.
Roll out pastry on a well-floured surface one at a time. Transfer pastries to a parchment lined baking sheet.
Spoon the fruit mixture into the center of the crust, leaving a 2–3-inch border. With a pastry brush, brush the sides of the pastry ,press up the sides around the fruit making pleating pattern. Brush tops of pastry with more egg wash. Can be refrigerated up to one day before baking.
4. To Bake:
Sprinkle galettes with almonds.
Bake for 20-30 minutes until crust is golden on the bottom and the juice from the fruit bubbles into a syrup. Drizzle lavender infused honey over galettes. Serve & enjoy with whipped cream.
Makes 5-6 galettes. Best served one day after baking.